Coral Calcium
Coral Calcium is a superior marine grade supplement that does not only contain Calcium and Magnesium, but also Vitamin D.
Calcium intake, when combined with sufficient Vitamin D, a healthy diet and regular exercise, may reduce the risk of developing osteoporosis.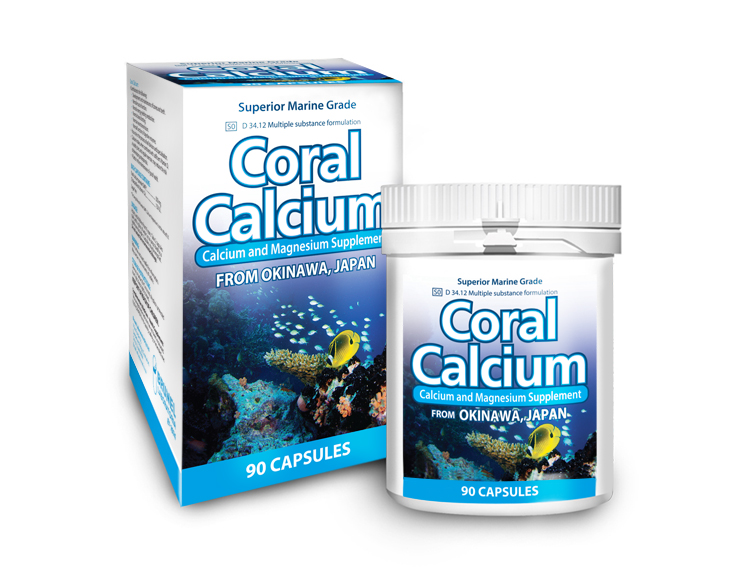 Calcium and Magnesium Supplement.
Coral Calcium has a role in the process of cell division and specialisation, and is a factor in the maintenance of good health.
Coral Calcium is a Calcium and Magnesium supplement that contributes to the following:
Development and maintenance of bones and teeth.
Normal muscle function.
Normal energy-yielding metabolism.
Normal blood clotting.
Normal neurotransmission.
Normal function of digestive enzymes.
| EACH CAPSULE CONTAINS: | |
| --- | --- |
| Coral calcium powder (SMP)* | 500 mg |
| Cholecalciferol (Vitamin D3) | 150 I.U. |
| Sugar free | |
*The Sango Mineral Powder (SMP), Calcium:Magnesium is at the ratio of 2:1
Adults and children from 9 years: Take 2 capsules daily with a glass of water, or as prescribed by a healthcare provider. Capsules may be emptied.
Do not exceed the recommended dosage.
May contain trace amounts of Iodine.
90 CAPSULES

For full prescribing information, please refer to the Patient Information Leaflet by clicking here.
Complementary Medicine – Health Supplement

Disclaimer: This unregistered medicine has not been evaluated by the SAHPRA for its quality, safety or intended use.