Pro Collagen
In the human body, collagen fibres are woven together to form a network in which new cells grow and reproduce. Any time the body needs to build new cells, such as in the healing and growing processes, collagen plays the central role. It protects and supports the softer tissues of the body and connects them to the skeleton.
Pro Collagen is an amino acid complex and is considered a health supplement.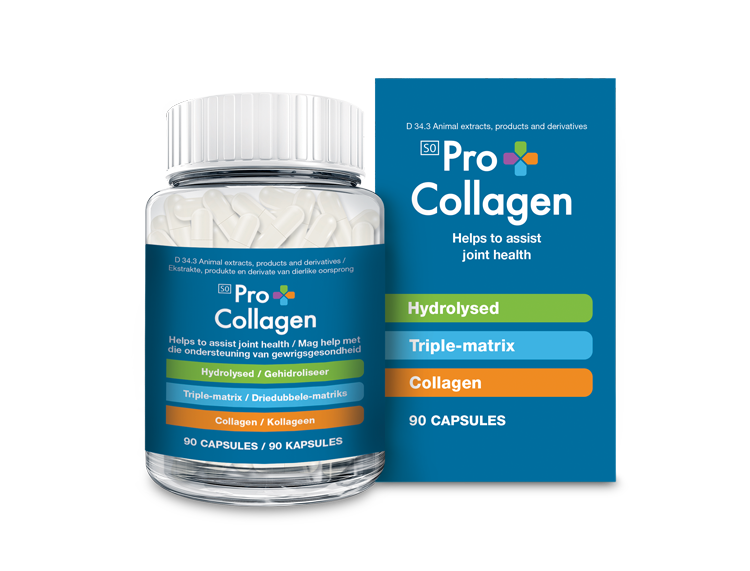 PRO COLLAGEN

Essential Cellular – Structural Protein
Uniquely formulated with a high purity protein consisting of bioactive collagen peptides.
Pro Collagen is a collagen supplement to be taken daily by the physically active, hard-working individual.
KEY FEATURES:
Hydrolysed

Triple-matrix

Collagen
EACH CAPSULE CONTAINS:
Hydrolysed collagen
400 mg
Sugar free
Adults: Take 3 capsules daily before bedtime, or as prescribed by a healthcare provider.
It is recommended to drink at least 1,5 L water per day if you use Pro Collagen.
Do not exceed the recommended dosage.
90 CAPSULES

For full prescribing information, please refer to the Patient Information Leaflet by clicking here.
Complementary Medicine – Health Supplement
Disclaimer: This unregistered medicine has not been evaluated by the SAHPRA for its quality, safety or intended use.